Some say art is open to interpretation and some art just says "VAL SPELLED BACKWARDS IS GOD". Before Top Gun Maverick was announced it looked like things were getting a bit dicey for a literal Batman: Val Kilmer. Does one really need a piece of garage scrap metal spray-painted with a picture of Doc Holliday? And the answer it seems is yes, yes you do.
How about a giant stencil of him as Jim Morrison emblazoned with "THE LIZARD KING"? No self-respecting mudroom should dare go without. Or for $150 dollars you can get graffiti art of batman wreathed with "Chicks Dig the Car". But how did we get here?
In 2017 Val Kilmer finally went public about his throat cancer diagnosis, which had been previously reported in 2015. At the time, Kilmer denies the reports instead retreating from the public eye and the industry to focus on his health and of course to paint pictures of himself on aluminum. To quote Melania Giudice- "Reflection is the medicine to the face". Reflection indeed, as Val's medium of choice seems to be whatever's shiniest: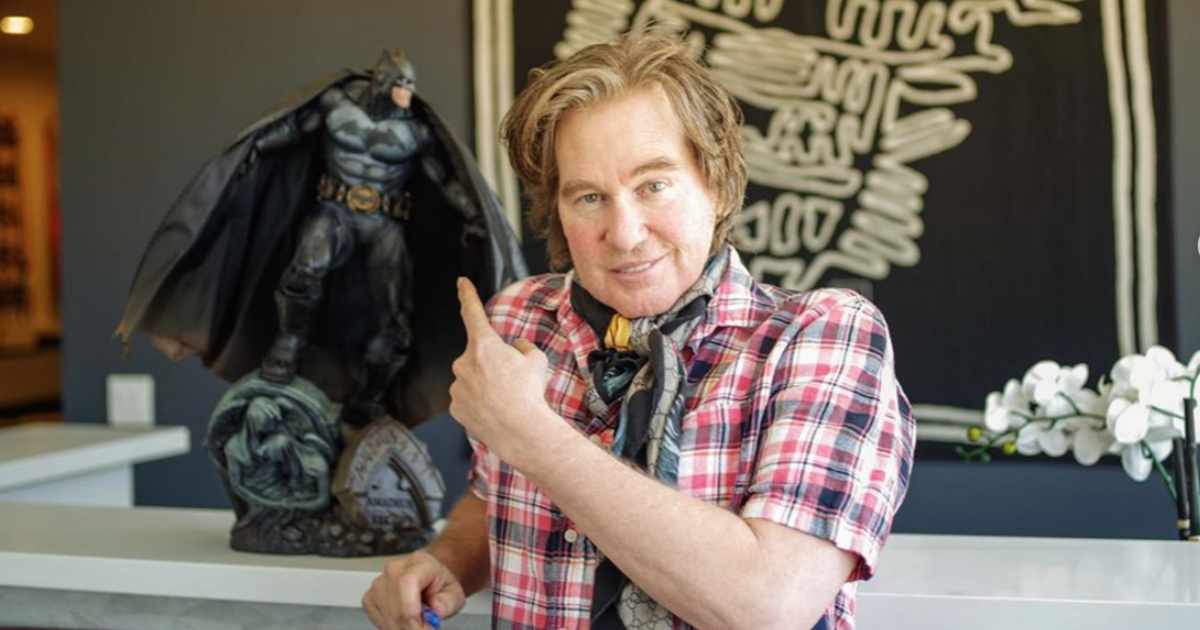 "Val creates each painting in his studio as a unique, original artwork. He uses aged steel, stencils, and enamel paints to create one-of-a-kind pieces suitable for display either unframed or in his custom magnetic box frames."
That's right, 'Aged Steel', AKA maybe just one of his hall mirrors. That said, $150 goes a long way towards a safety cushion for a potential Top Gun Maverick box office bombing, and it would be a shame to see a Hollywood legend miss out on a much-deserved renaissance.
The Life And Times Of A Hollywood Legend
After breaking out in the original Top Gun, Kilmer started a steady incline in the early 90s portraying Jim Robinson in The Doors – a lifelong passion project and dream. Though Kilmer had already accumulated a handful of starring roles, his turn as western legend Doc Holiday in 'Tombstone' garnered him considerable attention.
Though the film was only a moderate success, Kilmer's portrayal as the sweaty, drunken anti-hero became iconic. It seems Kilmer agrees with a large portion of his Pop art collection dedicated to the character. For $1200 you can get a print of a stencil drawing of Doc adorned with "say when". Place it above your wine rack, it pairs well with regret.
Kilmer's biggest regret? It would appear his break up to actress and mermaid Darryl Hannah, whom he lost to Neil Young. Saying in his new memoir, and joining the rest of society, Kilmer says of young: "Neil Young, I always loved you, but I'm afraid I hate you now".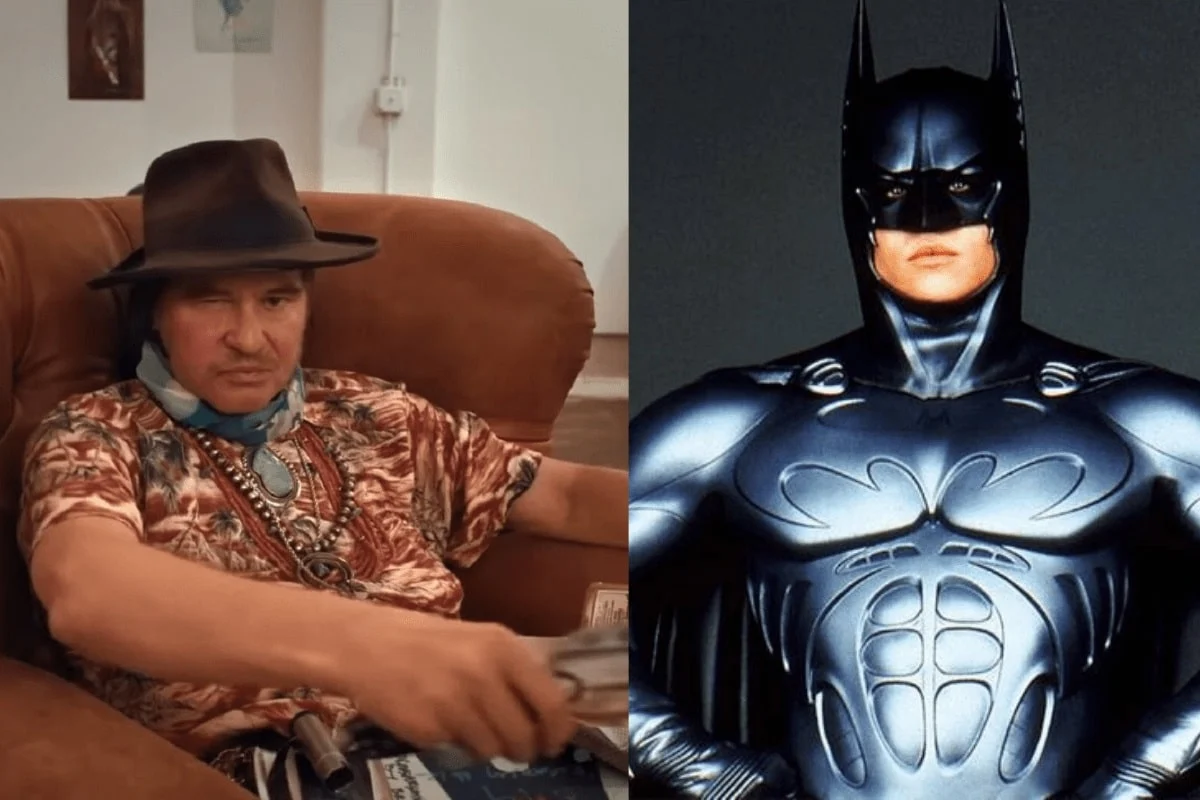 Over the last few years, Kilmer dropped the brush for a quill in his new tell-all: 'I'm Your Huckleberry', detailing much of his battle with throat cancer. In the book, Kilmer reveals that it was icon and ex-lover Cher, who stuck by his side during his recovery.
"One night I suddenly awoke vomiting blood that covered the bed like a scene out of The Godfather. I prayed immediately, then called 911. Then alerted my hostess. Cher stepped in and stepped up… …I saw her scanning the paramedic, who was Gregory Peck drop-dead handsome. Only in Hollywood, right?"
Just to reiterate, this is Val Kilmer covered in blood outside Cher's Mansion, clocking a paramedic as 'Gregory Peck' handsome, a sentence raising all the eyebrows to God…
"Despite the fact that I was covered in blood, I caught her eye and bounced my brows like Groucho Marx. Hubba hubba. Cher was bashful to be busted but then couldn't help laughing out loud at the audacity. Here we were, joking about beauty and desire, while I looked like a stunt man from Tarantino's Reservoir Dogs and, yes, while my life seemed to be in mortal danger. We laughed out loud before they finished with my vitals and shut me up with an oxygen mask."
There are no words — Is it too much to ask for a Cher Kilmer collaboration? Perhaps some Burlesque vinyl adorned with quotes from Real Genius? A tombstone landscape with "Wagon Wheel Watusi" written in blood? Gypsies, Tramps And The Saint? It's in his Kiss Kiss Bang Bang? There's still time, let the people have it.