The Western got a bit of revitalization in the early 1990s. Unforgiven winning Best Picture played a role, but Tombstone has arguably become the most popular Western of that era. It's the re-watchable, always-on-cable Western from that time. Looking for 20 facts about Tombstone? We're your huckleberry.
The writer was the original director
Kevin Jarre, who had written screenplays for Glory and Judgment Night, wrote the screenplay for Tombstone based on the real life of people like Wyatt Earp and Doc Holliday and real events like the Gunfight at the OK Corral. The script was bought, and Jarre was attached to direct. This movie was his directorial debut.
Jarre did not finish the job, though
It would seem Jarre wasn't ready to make the jump behind the camera. Evidently, the film fell behind schedule, and Jarre failed to fulfill the requirements of directing a major motion picture. One month into filming, Jarre was fired and replaced by George A. Cosmatos.
Replacing the director almost cost them an actor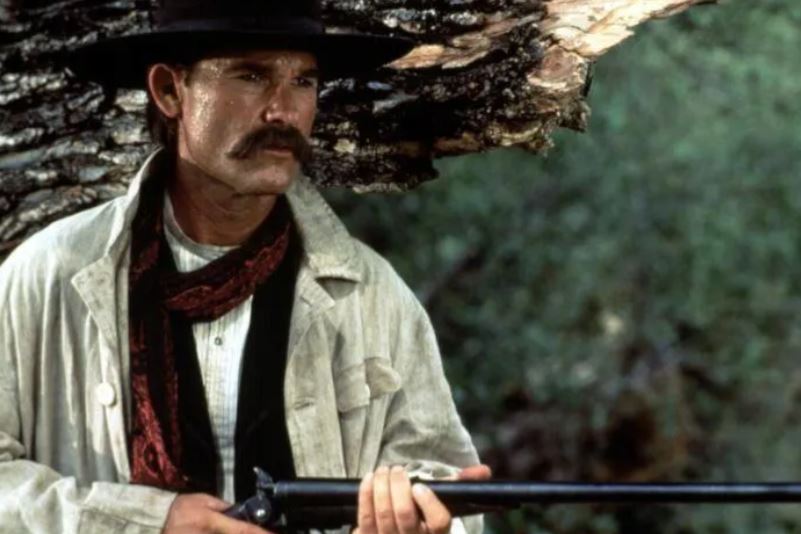 Michael Biehn, who played Johnny Ringo, was friends with Jarre. When his friend was fired and replaced with a director he felt did not understand the screenplay, Biehn reportedly thought about quitting the film. In the end, Biehn stayed on and continued to play Ringo.
Cosmatos was dedicated to detail
For Cosmatos, realism was the name of the game. When he took over, historical accuracy became paramount. That was brought into play in terms of costumes, props, and even scenery. This was part of what was reportedly an overarching "demanding" nature Cosmatos brought to the set.
How much Cosmatos really did is up for debate
The behind-the-scenes story of Tombstone has been rumored about for years. Kurt Russell has said that, besides starring as Wyatt Earp, he really directed the movie. In fact, Russell has gone as far as to say he had Cosmatos hired as a "ghost director" so that he did not get a reputation as an "actor/director" type. Other actors have disputed this. Val Kilmer has said that Russell did "essentially" direct the movie but did not actually direct the movie, while Biehn has said that Russell did not direct him personally.
Kilmer wasn't the first choice for Doc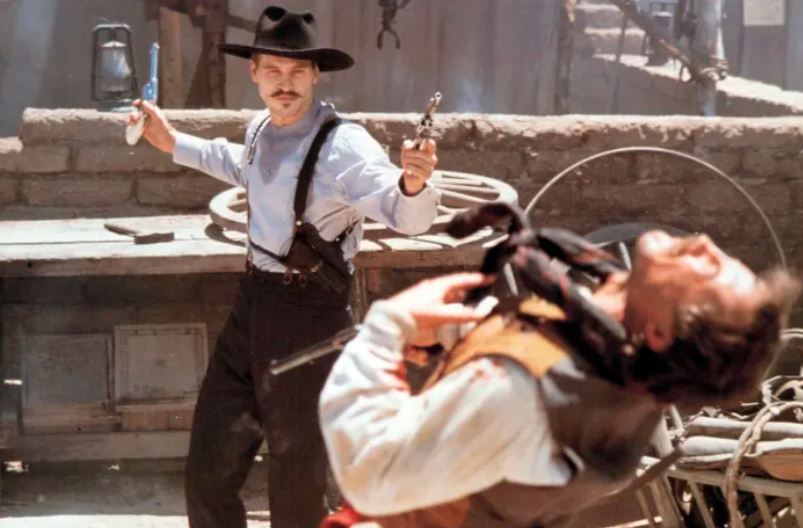 Before considering Kilmer for the role of Holliday, Willem Dafoe was the choice. However, Dafoe was a smidge controversial at the time — having just starred in Martin Scorsese's Last Temptation of Christ. Buena Vista Pictures, who distributed the film in the United States, reportedly said they would pull out of the distribution deal if Dafoe were cast.
Realism was all over the actor's faces
This is a robust film for facial hair, which is not uncommon for Westerns. For Tombstone, this was indicative of the realism that Cosmatos wanted. Every mustache in the movie was real. Of course, when Sam Elliott is in a film, you know at least one mustache is legitimate.
Kilmer put in the work
Kilmer is known for being a little difficult to work with and for his attention to detail. His turn as Doc Holliday is showy and distinct, but he definitely pops. On top of that, he spent hours working on his quick-draw skills so that he could reasonably replicate Holliday's acumen with a gun.
An iconic actor h andled the narration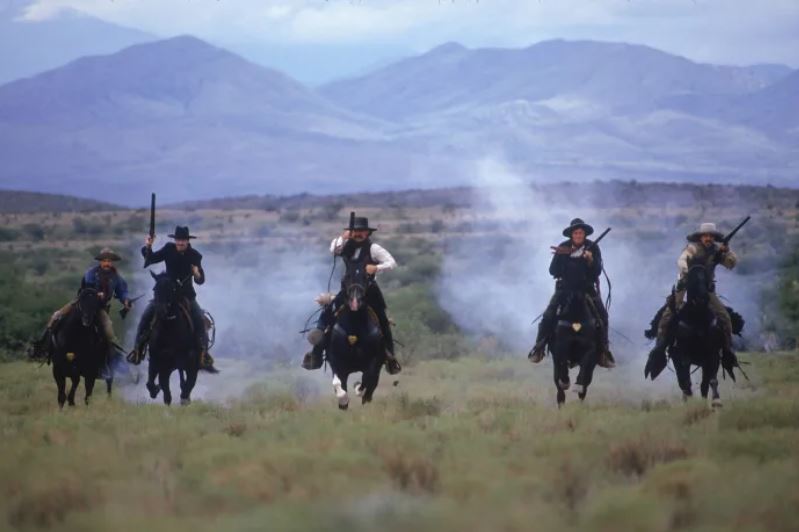 There are a lot of famous faces in Tombstone. Some of them were not yet famous, like Billy Zane or Thomas Haden Church, but there is a renowned voice that looms unseen over the movie. The narration for Tombstone was spoken by the legendary Hollywood figure Robert Mitchum.
A distant relative of Earp got a role
You may notice a man named Wyatt Earp III credited in the movie as playing Billy Claiborne. Yes, there is a tie to the Wyatt Earp, though a distant one. Wyatt Earp did not have a son, but Glen Wyatt Earp III, who conveniently dropped the "Glen" for this film, is the lawman's fifth cousin.
Billy Bob Thornton was given free reign
In 1993, Thornton was a few years away from his breakout film Sling Blade. He was just a working, and arguably even struggling, actor given the role of a rude cards player. Thornton didn't even have lines for his scene. He was just told to "be a bully" and got to ad lib his way through it.
Kilmer had a little help for his death scene
Kilmer asked for his bed to be filled with ice for the scene where Doc Holliday is dying and then eventually dies. He thought it would make his body shake and give him a sense of discomfort and strangeness that would help fuel his performance.
The original choice for the marshal had to be replaced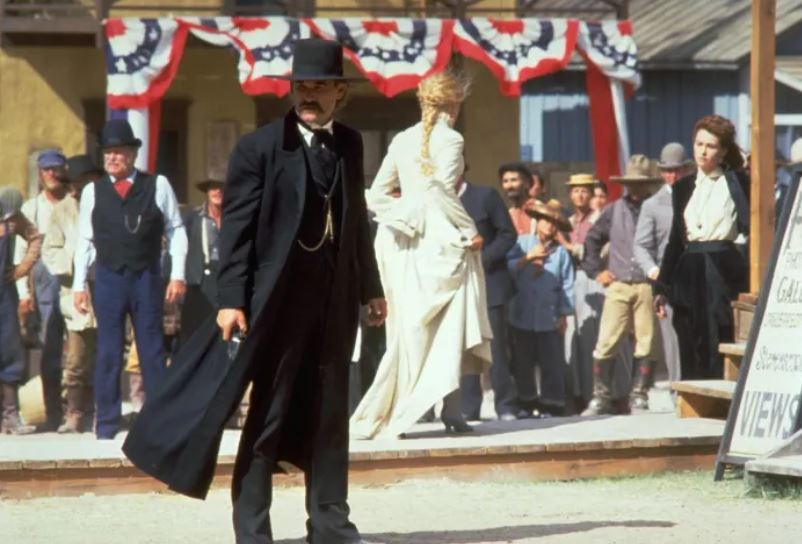 Originally, veteran Western actor Glenn Ford was to play Marshal Fred White. However, he fell ill and was replaced by Harry Carey Jr., who was initially set to play the wagon driver. Carey was 62 when he played White, who in real life was 31 when he died.
The real Wyatt Earp had a flair for promotion
How did Wyatt Earp become such a known historical figure? After all, his brother Virgil was the marshal of Tombstone during the gunfight at the O.K. Corral. Well, it helped that he survived, having never been injured by a bullet in his life. Also, Wyatt had the idea to head to Hollywood late in his life and tell tales of what he had been through, which naturally centered on himself. Earp began working on films around 1915 as a consultant on Westerns, and a couple of Western actors were among his pallbearers when he died in 1929. Reportedly, John Wayne based his cowboy walk in part on Earp.
An unlikely event may have been true
It seems like something out of an action movie. Wyatt Earp walks through a hail of bullets to kill Curly Bill. And yet, apparently, that wasn't all that exaggerated. Granted, this is based on the word of Johnny Barnes, who temporarily survived that shootout and said that Earp indeed did just what was depicted in the film, bullets and all. Now, that could have been exaggerated, but at the very least, it wasn't made up for the movie.
It makes use of one of the first iconic film images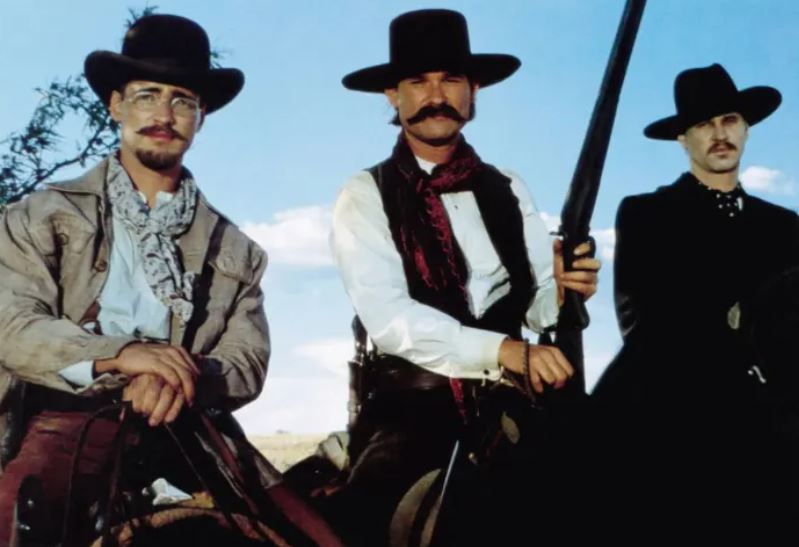 Tombstone opens things up with an old-time image of a cowboy outlaw firing directly at the camera. This comes from the 1903 film The Great Train Robbery, one of the earliest films to make a lasting impact on the general public. That image of a bandit firing at the screen has been referenced dozens of times throughout history, including at the end of Goodfellas. It has been said that, back in 1903, filmgoers were so shocked by the image they thought they were actually being fired upon. This, however, seems like a bit of sensationalism that has made its way through history.
It was part of a big moment for Wyatt Earp
Many cinephiles remember the time of Armageddon and Deep Impact or when we got the double dose of Volcano and Dante's Peak. Well, Tombstone was part of one of those unexpected pairings as well. Tombstone came out in December 1993, and six months later, we got Wyatt Earp, which saw Kevin Costner in the titular role. That movie flopped, perhaps owing to the fact it followed in the footsteps of Tombstone.
The movie had some legs at the box office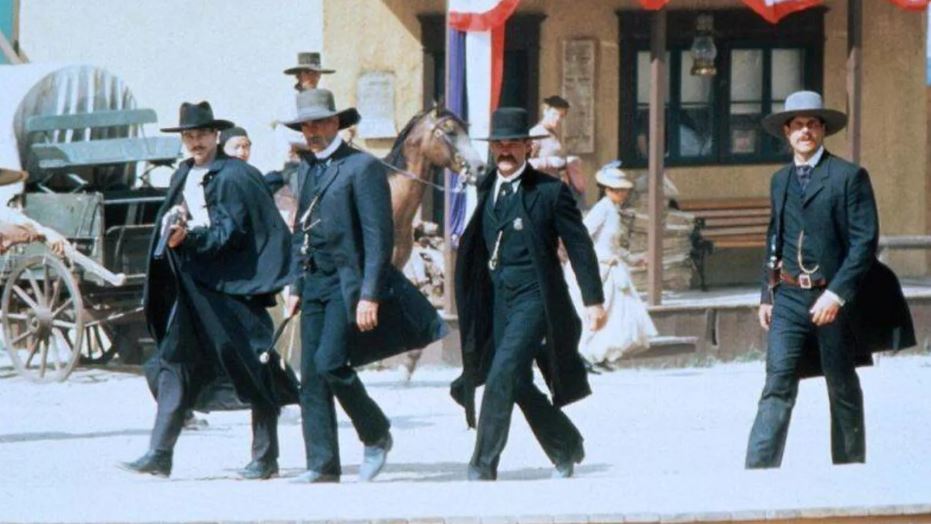 In its first weekend of release, Tombstone finished third at the domestic box office. It managed to stay in that position for its second week and increased its intake by 35 percent. In the end, Tombstone made $73.2 million off of a budget of $25 million.
The President saw it before Siskel and Ebert
In the early '90s, Siskel and Ebert were still at the forefront of film criticism. And yet, they missed out on Tombstone because they could not get a screening. Then, according to Ebert, he kept hearing about Kilmer's great turn as Holliday. In fact, one of the people who spoke highly of Kilmer in the film was none other than then-President Bill Clinton. The critic duo did eventually catch up on the movie. Ebert liked it, while Siskel did not.
It got Kilmer a weird award nomination
Kilmer's turn as Doc Holliday does draw attention for its showiness and quality, but it did not earn Kilmer an Oscar nomination. It did get him two nominations from the MTV Movie Awards. In addition to being nominated for Best Male Performance, Kilmer's work was nominated in the short-lived category of Most Desirable Male. It should be noted that, in Tombstone, Kilmer is playing an alcoholic dying of tuberculosis. That set hearts aflutter in 1993?